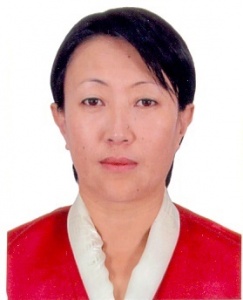 Tsering Yangzome Nidup is a senior English lecturer, currently working at the Paro College of Education. Besides being a keen teacher educator for 22 years she has also shouldered the responsibilities of an Editor (2014-2017) at the Centre for Educational Research and Development (CERD) for the RABSEL and JEAR journals and PCEyes newsletter published by the Centre. She has assumed various roles at the College in her capacity as the Programme Leader (Diploma in Leadership and Management, 2006-2010) and Course Leader for the Bachelors of Education (Secondary, 2005-2007).
She has a Master's degree in English from the Bond University, Queensland in Australia. She is also the recipient of both the Vice Chancellor's Award and the Dean's award for three consecutive semesters while at the University.  She teaches subjects related to the English Language and Literature and methodology related courses both at the undergraduate and graduate levels.
She has resourced workshops on Media and Information Literacy (MIL) both at the tertiary and school levels and ELT workshops for English teachers in Bhutan. Her areas of expertise are in the areas of English Language/ Literature, Multigrade teaching, Media and Information Literacy and Critical Literacy. She was also the Convener for the International Seminar on Sexuality Education hosted at the Paro College in December, 2015.  

Email: tseringynidup.pce@rub.edu.bt