Laundry Services Start on PCE Campus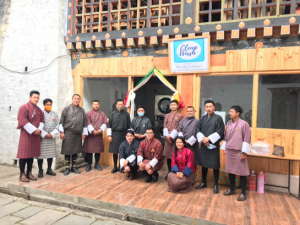 Beginning 21stApril 2020, laundry services will be available on PCE campus. Set up by Clean Wash– an entrepreneurial laundry service initiated by a University graduate – the laundry facility is located in the student residential area, with easy access to all users. The new facility was consecrated with lhabsang and thruesol rituals  performed on the morning of 21stApril. As a trial, the Campus Laundry Service is set up in a modest way with a Vending machine, Washer, and a Dryer. The facility is coin-operated, very efficient and easy to use.
According to the promoter Sonam Tandin Phurba, the machine can wash cloths up to 10 kilograms of weight which can be dried in about 20 minutes soon after. Ms Jigme Wangmo, Councilor and 4thyear student, was the first user with the launch of the campus laundry service, which she received for free.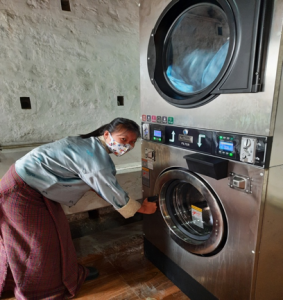 PCE President Dr Dorji Thinley said that the plan was to set up the Laundry Service much earlier and it had to wait owing to the pandemic. He remarked that this is the first machine operated laundry service in the University and that it will promote health and hygiene among the students, which they will promote in the schools where they teach in the future. He also said that while they wait for their cloths to be washed and dried they can relax, read books or work on their academic projects. "So they don't waste time", he said.  
Based on data gathered from the users, the College will consider setting up one to two additional machines in the near future.
Intended gradually to be available 24 hours and throughout the week, the Campus Laundry Service will cater to the needs of both students and staff.