Library Service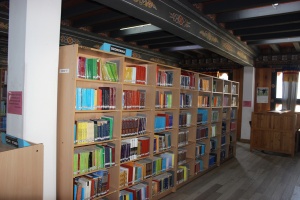 Vision
To provide quality information services that will enable the college in providing the best training to teacher trainees
Mission
The library and information services will be integral to the teaching, learning and research activities of the institute.
The library and information services will continue to play a major role in the development of information literacy in today's information dependent society.The staff of Library and Information aims to provide easy and equitable information and library services supporting education and lifelong learning.
Library Resources
The library has a collection of materials that supports the users of the college. The collection contains:
Government documents

Journals

Textbooks

Fiction

Non-fiction (English & Dzongkha

Reference materials
Opening hours
Monday – Friday                    8.00 AM – 8.00 PM
Saturday - Sunday                  9:30 AM - 12:30 PM
Government Holidays              Closed
Library Policies and Rules
Membership
All students, academic and administrative staff of the College are members of the library.
Teacher trainees are kindly requested to show their student ID while using library services.
Borrowing Access and Loan Periods
The library collections are available to all individuals for use

All faculty, staff and students are eligible for privileges to borrow from PCE library

Five items per student for two weeks.

Ten items per lecturers for two months.

Five items per staff for one months

Reference items, journals and periodicals will not be loaned out.
Overdue Material
Students will be charged Nu.5 per day for overdue materials

Lecturers/staff will be charged Nu.10 per day for overdue materials.

Borrowing privileges will be suspended if regular circulating materials are kept for 30 days or more beyond their due date, or if a recalled item is five days overdue. Privileges will be restored only after the items have been returned
Lost or Damaged Items
Any person who shall willfully, maliciously, deface, tear, write upon, ruin, or injure any library materials or facilities may be subjected to loss of library privileges and appropriate administrative action.

Lost library items must be reported immediately.

Replace the book or either pay the purchased price plus a processing fee of Nu.50.
Holds & Recalls
All borrowers are guaranteed the use of library books depending on the loan periods assigned unless a rush recall is placed to put the book on reserve.

If an item is loaned out, library staff will put a recall on the item and must be submitted on the new due date. The patrons will receive a recall notice.

Borrowing privileges will be suspended if a recalled item is not returned by the new recall due date and fines will be levied accordingly.

An item can be placed on hold by consulting the library staff.
Returns & Renewals
 Materials checked out must be returned to the library staff.

Library items can be renewed online.

Renewal polices vary depending on the type of material and users.
Library Catalogue - (the key to finding books in the library)
Books in the library are shelved in call number order using the Dewey Decimal Classification system. The Dewey Decimal Classification System divides all knowledge into ten main classes as follows:
000 Computer Science, Information & General Works
100 Philosophy & Psychology
200 Religion
300 Social Sciences
400 Language
500 Science
600 Technology
700 Arts & Recreation
800 Literature
900 History & Geography
Dzongkha call numbers are:
Buddhist logic & philosophy – 181.043
Buddhism – 294.3
Language/Dictionaries – 495.4
Dzongkha grammar – 495.45
Dzongkha literature – 895.4
Dzongkha poetry – 895.41
Lozey – 895.41044
Dzongkha letter writing – 895.46
History – 954.98
Books by different authors on the same subject are shelved together in one place and are sub-arranged alphabetically by the surname of the author.
Books are entered in the following item types:
-  Books
-  Children's literature
-  Textbooks
-  M.Ed books
-  Reference
Catalog search tips: search by using title, author, call number, ISBN, publisher or go to advanced search and click on the item type & enter (eg. select text books & enter)
Re shelving
Patrons should not attempt to reshelve library materials.
Patrons should place books taken from the shelves on the counter near the Loans Desk for library staff to reshelve.