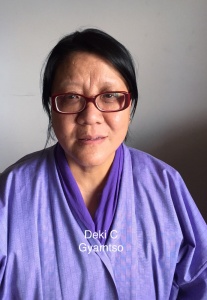 Deki C Gyamtso, PhD, is a teacher educator. She started her career as a lecturer in Geography in Samtse College of Education and has since then had the privilege to hold key positions such as B.Ed Secondary and Primary Programme Leader; Distance Teacher Education Programme (DTEP) Coordinator; Coordinator of the Centre for University Learning and Teaching (CULT); Assistant Principal (Academic Affairs) and the Dean of Academic Affairs in the College. During her tenure she contributed immensely to the overall academic development of Samtse College of Education.
In 2014 to broaden her horizons, she went on secondment for a period of two years to The Royal Academy, Paro. From 2016 – 2019 she worked in the Office of the Vice Chancellor, RUB in various capacities as Managing Editor of the Bhutan Journal of Research and Development (BJRD), Higher Education Specialist, Researcher, Facilitator and short – course designer.  In 2020 she came back to her initial passion teaching in Paro College of Education.
In her teaching and leadership roles she come across great opportunities, and achieved considerable responsibilities. She wrote and evaluated several courses, taught undergraduate and postgraduate students, trained school teachers and University academics.  

                                              Email:   dcgyamtso.pce@rub.edu.bt