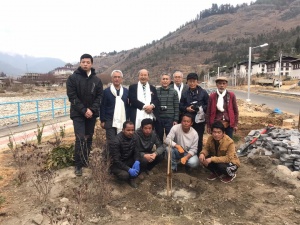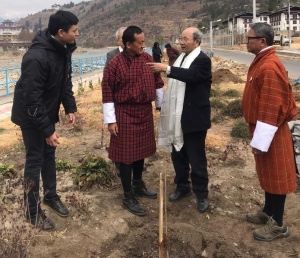 Cherry Saplings Planted on PCE's Nangkar Choeling Campus
On 15th February 2020, Paro College of Education welcomed a seven member Japanese delegation who donated five cherrysaplings to the College. The visitors were from the Society of Experts for Construction Equipment (SECONEQ) and Kansai University, Japan. As a gesture of friendship between PCE and the two Japanese institutions, the five cherry tree saplings were planted on the PCE's Nangkar Choeling campus the same day. The Japanese delegation first demonstrated  the meticulous process of planning a cherry sampling which was instantly learnt by PCE staff, especially the gardeners and the remaining saplings were planted following the same procedures. The Japanese delegation remarked that they were very  pleased by the site chosen for growing cherry as it was alongside the College's main campus road.
The President of Paro College of Education Dr. Dorji Thinley said that the cherry trees, once fully grown, and their beautiful blossoms will  symbolize the very close friendship and mutually beneficial relationship between Royal University of Bhutan and the Japanese institutions. He also remarked that apart from adding to the aesthetic beauty of PCE campus, the cherry blossoms will be a remarkable offering to the holy site of the precious Rinpung Dzong from a distance which act will help everyone associated with the cherry plants to gather a great deal of positive merit.